Jewellery is something you buy to mark a special occasion, a fond memory, or one of life's many milestones. Happy or sad, we aim to make sure these moments will live on forever in your bespoke design. But how can you be sure your jewellery will last a lifetime? You've probably had jewellery in the past that has tarnished, plating that's faded over time or maybe even stones that have fallen out. It doesn't exactly provide you with faith that it won't happen again.
At The Goldsmithy, everything is handcrafted using precious metals, genuine stones and a great deal of love and passion. Our promise to customers is that we can design and create something that will not only make you happy, but that will last a lifetime – and that's where hallmarking comes in.
So, what is hallmarking?
The hallmark on your jewellery is a sure sign that you're in possession of something genuine, high-quality and long-lasting.
The UK Hallmarking Act of 1973 stated that it's an offence to describe any un-hallmarked item as being made from precious metal. There is a legal requirement for what each type of precious metal should weigh – if it weighs under this amount then it cannot be classed as a precious metal and does not need to be hallmarked. If it weighs on or above this amount, then it should be hallmarked…
Silver = 7.78 grams
Gold = 1 gram
Platinum = 0.5 grams
If you've ever visited us, you may have noticed a little sign around our workshop that looks a little something like this. Under the Hallmarking Act, it's also a legal requirement for us and all other 'dealers' to show this statutory notice.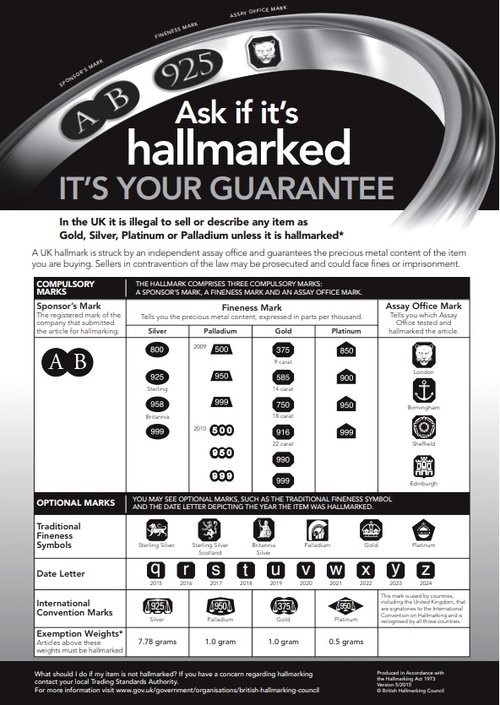 Hallmarks are controlled by the London Assay Office – there are four of these offices and their role is to control the standards of precious metals being sold in the UK.
A Hallmark must show a minimum of three marks. The first is a sponsor's mark, which identifies the maker of the piece (us). The second is a Millesimal Fineness Mark which shows the type, carat and fineness of the metal. And the final mark is the Assay Office mark, showing which Assay Office the mark came from.
The Assay Office will normally include an additional two marks – The Date Letter mark which indicates the year and the Traditional Fineness mark, which shows the type of metal.
It's a little confusing but by taking a look at the notice above, you can see what different hallmarks mean and compare them to your own jewellery. Hallmarks are very small so you may need to push your glasses to the end of your nose for this one… But you will normally find them punched or lasered on the back of your earrings or pendants for example, and on the inner side of rings.
The institution of the Hallmark dates back centuries and as much as we'd love to tell you the whole story, we could be here for a long time! If you're interested to know more, you can always visit the London Assay Office site, home of the UK Hallmark.
If you're ready to start your bespoke jewellery journey with The Goldsmithy, book a consultation with us to start your design. Our consultations are complimentary and very relaxed, so even if you're on the fence and not sure where to start, or even if this is the right path to go down, we are more than happy to sit down with you for a chat. We'll get to know your story and who knows? You may leave with a beautiful design ready to be created.