Christmas is full of excitement, with decorations, gifts and delicious food. But it's those extra magical moments that make the festive holidays even more special. And what better way to propose to your loved one than when you're cuddled up by the fire, or surrounded by family, with the Christmas tree twinkling in the background. But how do you begin to find a ring to match your festive proposal?
No one knows your partner better than you do, so why not design a bespoke ring to compliment the occasion? At The Goldsmithy, based in Cranfield, Bedfordshire, we specialise in creating beautiful handcrafted rings that will last a lifetime. We expertly melt, file and set together your own choice of precious metals and gems, making your engagement ring completely unique to you and your story.
Proposing at Christmas time already adds a bit of extra romance and excitement to the gesture. But when proposing with a bespoke ring designed with nothing but your partner in mind, there's little room for disappointment.
Design it together…
Not sure where to start with the ring design? Afraid your design might not be quite right? That's understandable – the moment you propose can be nerve-racking as it is.
So why not design the engagement ring together? Recently, this has become an extremely popular choice for many couples vowing to tie the knot. There's nothing wrong with proposing without a ring initially, and there are still many ways to make sure it's still the romantic moment you imagined. Whether you get down on one knee with an empty box, flowers or a simple filler-ring.
At The Goldsmithy, we've met many different couples who have chosen to go through the designing process together. You'll leave with a ring design you'll both love, plus a special experience to remember together.
Come back for your wedding bands!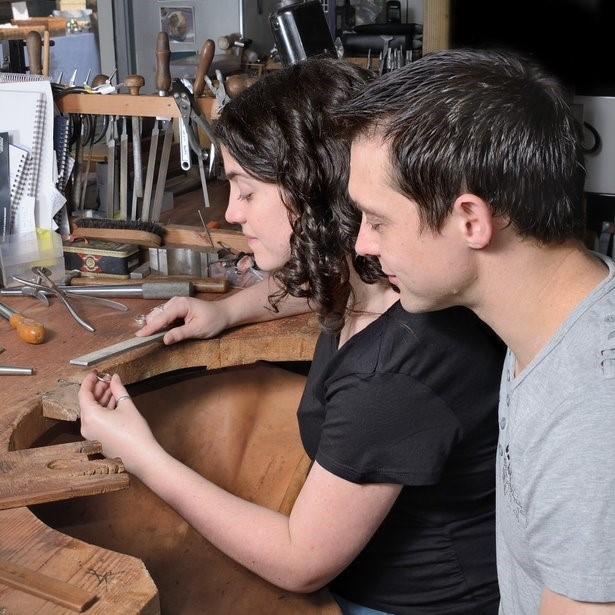 With the beautiful Christmas atmosphere and gorgeous bespoke ring, we're certain they'll say yes. So we invite you to come back to have your wedding bands made! Have the wedding bands made to match is a great choice, especially if you'd like them to be the perfect fit against the engagement ring.
One of the best parts about getting bespoke jewellery is seeing where the magic happens. We offer couples a memorable experience when getting their wedding bands made at The Goldsmithy.
To make your journey into a married couple even more special, we offer the rare opportunity to get behind the bench in our workshop, where you'll get to take part in the making of your rings.
Here at The Goldsmithy, we strive to ensure that every couple leaves our workshop with a beautiful design, a ring that will last them a lifetime and a beaming smile on their faces.
Please contact us to arrange a complimentary consultation. We look forward to meeting you!