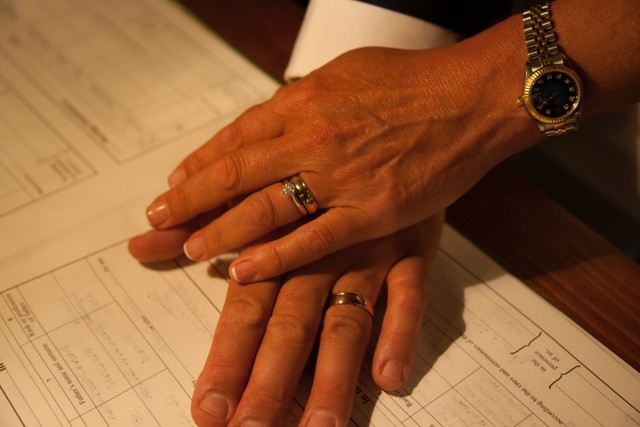 As craftsmen specialising in bespoke jewellery, we get to know many young couples in the midst of planning their wedding at the Goldsmithy. Bespoke engagement rings are becoming a more and more popular choice due to their sentimental value and personal design. But what about the wedding rings? Many people also favour a bespoke wedding ring in order to design one that fits to the shape of the bride's engagement ring. But despite their importance, these often get pushed to the back page of the wedding planner.
It tends to be that brides focus first on the venue and dress, then move on to the attire for the rest of the wedding party, get their save-the-dates sorted somewhere in between, and not to mention planning their hen/stag dos.
There's no denying that planning a wedding can be stressful and there are so many things to remember. So as a result, it seems that wedding rings are usually given a lower priority, along with the likes of table decorations and place cards.
Why are the rings so important?
Not only do rings get left until last minute, but some couples even opt out of having wedding rings entirely. Sometimes this may be for want of saving money. Or for many manual workers, for fear of damaging it at work and therefore never wearing it anyway. But we can't help but wonder what a wedding ceremony would be like without the exchange of the rings… Also, what would the groom take home from the experience without a ring? The bride may always have her engagement ring but we believe both should have something to remember the day by.
Your wedding rings represent pretty much the whole ceremony – after saying your vows, you exchange rings. Those rings are the one and only thing that continue to symbolise your marriage once the wedding itself is over. And as important as that day is for both bride and groom, it will still only (sadly) last for one day, whereas your rings will last you a whole lifetime. Think of it as a sentimental token of your ceremony.
When should we start thinking about wedding rings?
Many couples put off the wedding rings for different reasons. Some are concerned about the cost of having them made, but wedding rings are always simpler than engagement rings, and therefore don't cost as much as people expect.
But most just don't realise how much time it can take to create a bespoke ring. Depending on the design and detail, it can take a good few months to get your rings back to you.
This is why, at the Goldsmithy, we encourage all couples to start thinking about their wedding rings as early as possible. A simple wedding band is a lot faster to create than a more complex wedding ring, but many women these days prefer something a little less plain, and a lot more feminine to complement their engagement ring. Rings like this can take a lot longer, so it's a good idea to think about what you want for your rings early on in the planning process, before finding out that you're running low on time. To avoid last-minute rushing, it's good to think of the rings as one of the main parts of the day, rather than an 'extra' detail – put a similar importance on the rings as you would your venue or dress.
At The Goldsmithy, we're committed to giving every couple the wedding rings of their dreams. When planning your wedding, always remember how important they are. Not something to be forgotten, these rings tie you together as a couple and give you a memory to wear on your finger for life.
The team at The Goldsmithy are able to help you create the perfect Wedding Ring in Bedfordshire and Milton Keynes. Book your consultation to start your creation. Alternatively, visit our gallery.