Buying gifts for men is a task everyone is riddled with at some point throughout the year as it can prove a tricky task! He probably has enough socks to keep him going, and he'll have all the tools he needs so it's time to think outside of the box! Commission The Goldsmithy to create something he'll love and cherish forever – it's the ultimate gift!
Pens
Everyone always needs a pen – it's a necessity! That's why here at The Goldsmithy, we can create bespoke pens, so they'll always think of you whilst using it. We can create any design you wish using patterns and engravings making it a complete one of a kind that you won't find anywhere else!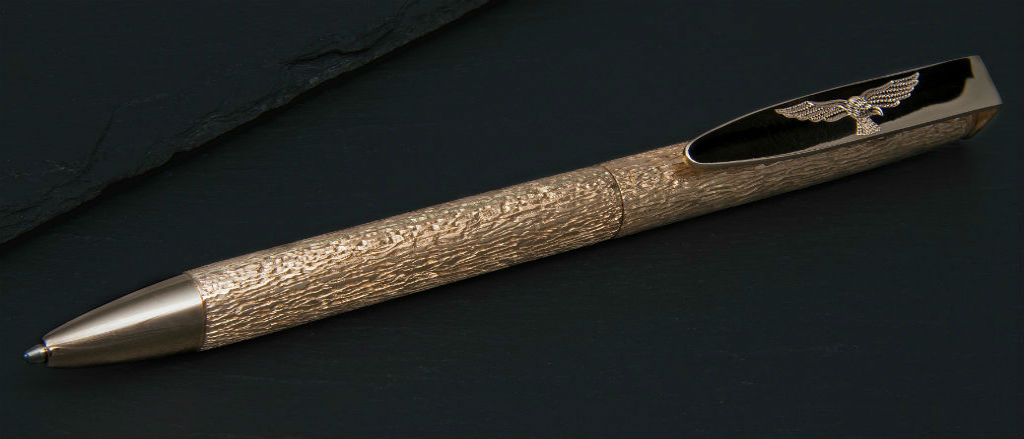 Cufflinks
Cufflinks are a classic gift that every man loves to have when they suit up for a special event. Why not create a bespoke pair that will be one of a kind – you could even use a family heirloom to make them extra special.
Tie Pins
A tie pin isn't always something everybody has or wears, but it's functional! A tie pin helps to keep it in place, even when eating dinner.  You can create a bespoke tie pin to match his style and make it something that represents him. If a tie pin isn't his style, we can create lapel pins which have made a comeback in recent years!
Create memories together
If you're still not sure what you would like to buy or need some guidance with styling why not present an experience gift to make a custom piece together. You will both be part of the process and will be able to create something he absolutely loves! As part of the package with The Goldsmithy, we will invite you into the workshop to have a go at the bench – it doesn't matter if you've never picked up a tool in your life as the team will be on hand to guide you step-by-step through the process. You will be able to leave your own personal mark on your piece by doing some filing and sanding, making you appreciate the skill of the trade as well as enhancing the uniqueness of your commission.
If you're ready to start the process of designing your bespoke gift, contact us. If you're still struggling and would like some ideas for inspiration you can visit our gallery.
PLEASE NOTE: There is typically a 6-8 month lead time for all commissions.